If you're new to knitting (or want to learn), you know that finding true "beginner" patterns can be tough! Aside from knitting a thousand dishcloths, I have had a hard time finding something else functional and easy to knit up. I also like patterns that don't take a lot of time because I am an instant-gratification kind of girl.
I've been wanting to make something for baby A for a while now, but couldn't find anything easy enough. You see...I'm a beginner and because I only get about 2 seconds to myself a day, I'll probably be a beginner for all of my life. I came across this really cute
knit baby headband
pattern the other day over at
HipKnitIzed
and decided it was simple enough for me to give it a go! I had it finished in a couple of hours...shouldn't have taken that long, but it did. I'm also dying to try out those shortbread snowballs on the home page of her blog!
The directions are easy:
Get yarn. Ok..that's a given, but I need all the direction I can get some days. I chose to use Shepard Shades 100% wool in Shrimp because I just have a love for animal fibers. I'm guessing you could use just about anything with such a simple pattern.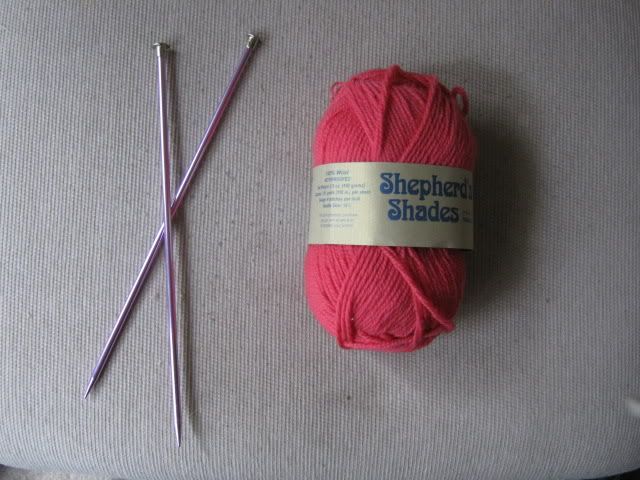 Man, my ottoman needs a new fabric!

Use size 5US needles and cast on 70 stitches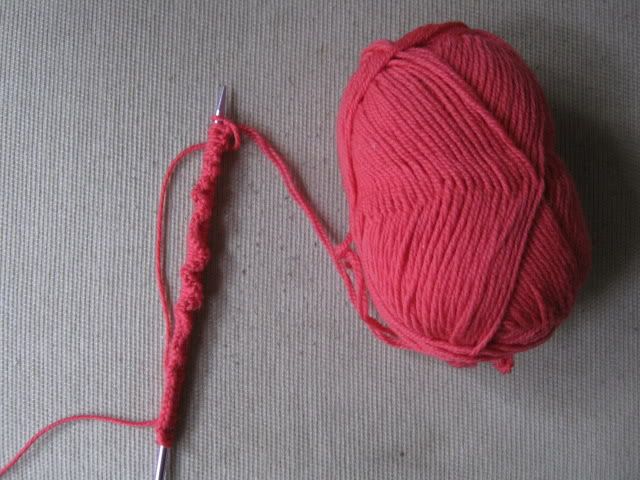 You then knit 5 rows, bind off, and sew the ends together! DONE!
I don't have a picture of my headband sewn together, but that part is extremely simple. I was too busy playing with little A, who really enjoys watching her mommy knit from her bouncy. I also made the
fabulous felted flower
from the Michael's website and I'm trying to figure out if I want to attach it or just make it a clip on.
Here is little A watching mommy make her a headband.


My headband came out just a teensy bit too big for little A. I'm guessing it's because I used a different type of yarn. Next time I'll just cast on fewer stitches.

If you are just learning how to knit, watching videos is way better than one of those books that you buy at craft stores. You can check some out
here
and
here.
I am officially in love with the Shepard's Shades yarn. It doesn't split like other wool yarns that I have used. Also, it's a very smooth knitting yarn. All in all, this is a great pattern for beginners. I have already sent a few friends over to HipKnitized to get sta
rt
ed
on their first knitting projects
.